Security Services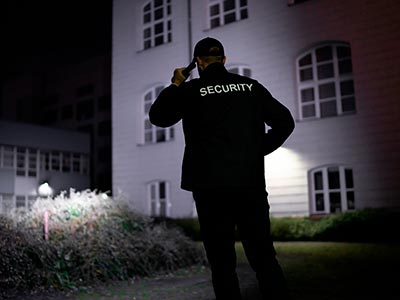 Every residential and commercial property owner needs to be sure that their property is secure and the occupants and belongings safe. Although CCTV and other security systems play a role in this aspect, there is no replacement for human presence in the form of security guards and security officers. This is where we come in. United Security Services is a leading company in this industry, and we are the preferred security provider for many businesses across various industries in the region. We are renowned for our residential security services and provide impeccable fire watch services as well. We provide these solutions:


Security For Residential Buildings
Regardless of whether they live in housing complexes, gated communities, or high-rises, individuals require a feeling of security in their surroundings. Increasingly, communities are implementing security measures or enhancing their existing security policy. We provide dependable and effective home security services to residents in Boca Raton and the surrounding areas. Our objective is to work together with managers, owners, and renters to create a pleasant, secure, and customer-focused atmosphere. With our skilled residential security experts patrolling your community, your members will feel safe and secure. We deploy permanent, long-term security personnel for our clients' private communities since we've observed that clients prefer getting to know the security guards on their premises. In a nutshell, our services contribute to the inhabitants' sense of security. Residential security guards provide various services, ranging from limited entry to routine patrol. Additionally, we provide door service and respond to all types of emergencies. Read More About Residential Security »


Commercial/Loss Prevention
Loss prevention is critical in shopping malls and retail establishments to protect from theft. Additionally, we monitor parking lots to deter vehicle theft and employ covert detection techniques to arrest criminals before committing any crimes. Our loss prevention security guards will patrol all the areas of your business or facility, monitoring, documenting, and reporting any unusual or suspicious conduct. Our officers have the authority and competence to apprehend and arrest individuals engaging in theft or other criminal behavior when necessary. Employee education is vital in ensuring that workers understand the value of loss prevention techniques and interacting with on-site security agents, whether in uniforms or plainclothes. This multipronged approach helps us spot potential theft risks and prevent them effectively. Loss prevention audits are an excellent way to avert future theft, and we offer these services. Additionally, we provide mystery-shopping solutions, in which our team members act as the public and interact with staff members. In combination, these services help provide a comprehensive security shield for your commercial property. Read More About Commercial/Loss Prevention »


Concierge Front Desk
Having a qualified, fast, and responsive security guard service is vital for property owners and property managers of condominiums and HOAs to have peace of mind and high quality of life. If you are the owner or manager of a residential apartment complex or business office building, nothing is more vital than protecting your investment. We will solve any security problems so that you can concentrate on your valued clients and consumers. Our concierge front desk staff oversees supervising and managing all building access and visitor logs, as well as visitor parking, package delivery, security systems, and customer service. Along with offering security elements, we act as the welcoming face that greets and assists visitors or renters. In the event of an emergency, our employees will direct emergency responders. Before providing you with front desk security guards, we ensure they possess the essential skills and technological understanding to handle all employee and resident data efficiently. Read More About Concierge Front Desk »


Fire Watch
A fire outbreak can result in considerable property damage and, in extreme cases, death. Our fire watch programs are specific for each customer and designed to mitigate the hazards connected with these circumstances. We have the competence and experience necessary to provide exceptional fire watch services. This solution is customized to the specific requirements of property owners, developers, and large construction companies. Our fire watch guards go through frequent drills and skills upgrades to ensure they are equipped for unforeseen circumstances. Our ability to conduct quality inspections and conduct routine patrols distinguishes us in all types of commercial and residential security. The company's fire watch staff is available 24/7. Therefore, whether the issue is an emergency or not, our experts will manage it effectively and without error. They will conduct thorough risk evaluations. We have qualified fire watch personnel for a range of industries and guarantee that our people can meet the demands of our clients. Read More About Fire Watch »

As you can see, we have all your security requirements covered. Our company focuses on offering the best services, ensuring that your property is always safe and secure. All our well-trained personnel has a good understanding of the technology and systems we use in our work. When you hire us, you have peace of mind that a reliable, credible, local security service provider is protecting you and your property. For additional details about our residential security services, please call United Security Services at 561-757-6971 or send us your queries via this online form. We will revert to answer all your questions.